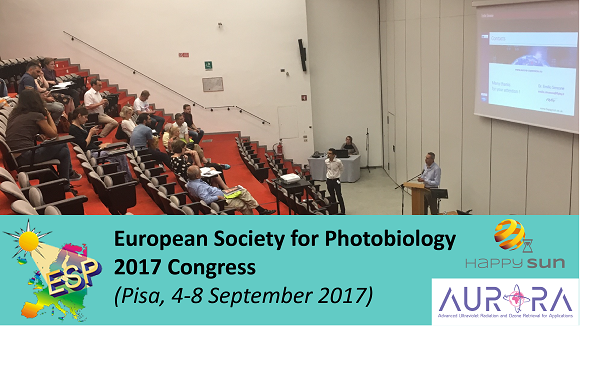 The current challenges related to the satellite-based UV radiation and the focus of the AURORA project were presented at the 17th European Society for Photobiology Congress, in the first week of September in Pisa.
This international meeting provided an important forum for the dissemination of new research and technological development in the science of Photobiology.
"We found some good opportunities of scientific collaboration for improving our HappySun App" – says dr. Emilio Simeone (Flyby – Italy), speaker at the ESP congress. He explained how the HappySun application is developing further in the framework of the AURORA project: abetter UV radiation data accuracy, with new dosimetry, new forecast and new all-the-year functionalities for a healthy life style.
During the presentation, scientists showed interest in UV radiation monitoring by satellite remote sensing and its innovative application such as HappySun, as enabling easy healthcare and healthy life style with satellite-based continuous and sensorless UV monitoring.