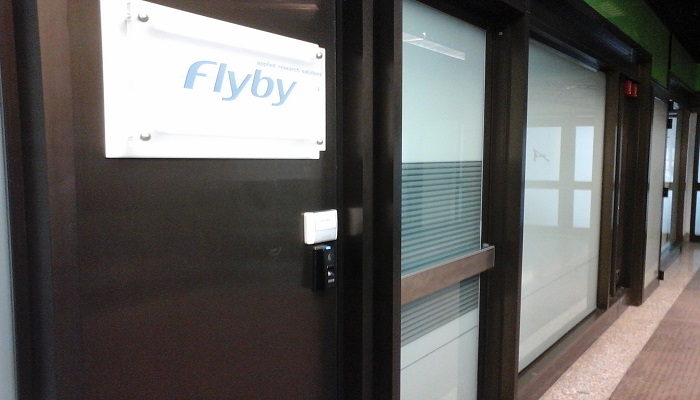 Flyby is an Italian aerospace SME, which specialises in the development of Decision Support Systems (DSSs) using cutting-edge technology in the field of Satellite Remote Sensing, Signal Processing and Big Data Analytics.
The company was founded in 2001 with the aim to develop innovative solutions using data analytics. Today, Flyby operates worldwide, providing systems and services in different scenarios and markets (Defence and Security, Environment, Health and Energy). The team is composed of talented individuals, most of whom have PhDs, with skills in Computer Science, Physics, Telecommunications, Electronics, Signal Processing Engineering and Artificial Intelligence.
The company vision is based on the new opportunities opened by different types of devices. A focus is on imaging systems and providing data to be analysed, fused and processed according to physical modelling, artificial intelligence and machine learning methods. The aggregated knowledge becomes cognition when the system is able to solve and think, finally providing a prediction that supports decision making.
This is common in the different application fields. Flyby is focusing on these cognitive processes from data to decisions, offering high-value solutions, in particular where big data analytics methodologies that run on a basis of heterogeneous data are required.
Within AURORA, Flyby is responsible for the IT technological platform, that allows all the project actors to share data, processing engines and the output value added information. This enables innovative digital operational services.
Thanks to the promising results from satellite measured atmospheric ozone values obtained in the frame of AURORA project, Flyby has further improved HappySun.
HappySun is the first ever app to use satellite-based technology in order to provide contactless solar radiation control in real-time. Simultaneously operating in different spectral bands, the application aids public skin cancer prevention through reduction of personal sunburn risk by providing a smart personal UV dosimeter.
The app revolutionises sun exposure thanks to its ability to plan and monitor continuously sun radiation without the need to wear a specific UV sensor.
The HappySun commercial system has been integrated and operated by siHealth Ltd, a UK-based spin-off of Flyby, dedicated to the best use and the further development of the current technology, addressing the growing mobile healthcare market.
HappySun at New Scientist Live
On 20th – 23rd September at the ExCel Exhibition Centre in London, siHealth Ltd will be present for the New Scientist Live. This is where the HappySun-Smart app, downloadable on smartphones, will be launched. The HappySun-Pharma version of HappySun will also be available for preview. This version is a tablet-based app for the point of sale of suncare dermocosmetics aimed to support customers in making better product choices. This is done by simulating the effects of solar radiation in any period and worldwide location, providing awareness to the public on the risks of solar exposure in any scenario, according to the personal skin features.
For more information about the HappySun system at the New Scientist Live you are kindly invited to visit our site and download the free App on iOS. Or visit the siHealth stand no. 1543 at HUMANS zone and the AURORA stand no. 122 at COSMOS zone.